Largest SkyDeck™ in the World at Little Caesar's Arena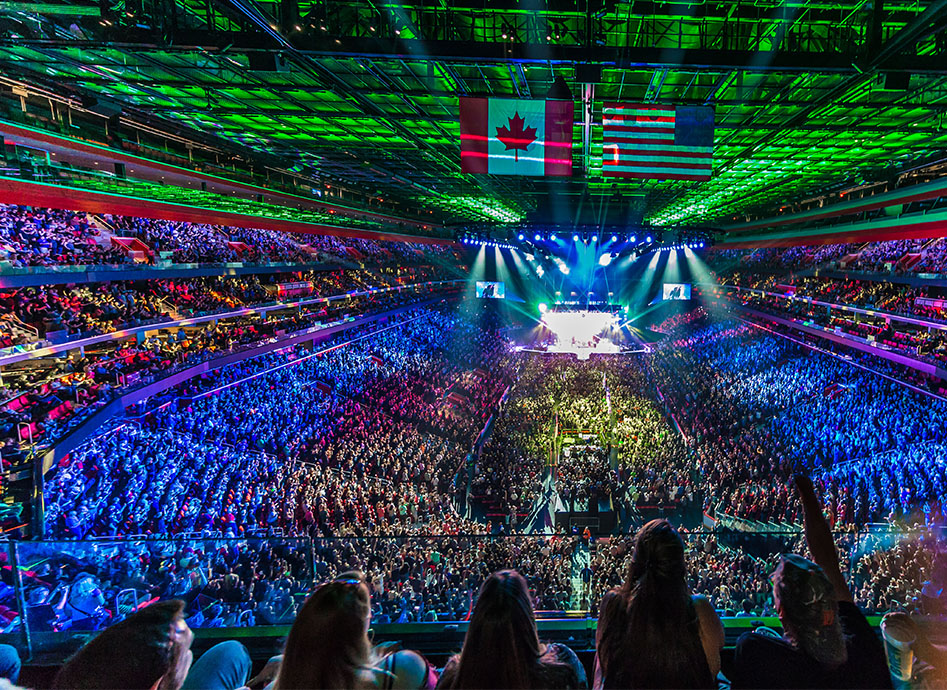 Posted: Friday January 11, 2019
Detroit is known for many things. It's the Motor City, the Arsenal of Democracy, and the birthplace of Motown. It's home to four major sports franchises: the Tigers (MLB), the Lions (NFL), the Pistons (NBA), and the Red Wings (NHL). It's the fourth largest city in the Midwest and now, it's home to the largest SkyDeck™ tension wire grid in the world.
A tension wire grid is a woven wire walking surface supported by a steel framework. "The idea was developed over the course of several projects," said Mark T. Black, owner and president of InterAmerica Stage, Inc. "We were dealing with limited structural capacity of the roof framing over here, safe overhead access over there… The solution to those problems was SkyDeck™."
"For years, I'd been thinking of how perfect SkyDeck™ would be in large arenas for overhead access," said Black. His vision came to fruition with the renovation of the Fabulous Forum in Inglewood, CA, in 2013. When the Forum opened its doors in 2014, the 34,000-square foot grid was the largest SkyDeck™ tension wire grid in the world. InterAmerica beat its own record with the Little Caesar's Arena's full-coverage grid. Comprised of 372 modular panels that weigh in around 205,000 pounds, the grid covers over 43,000 square feet. It took approximately 81 miles of aircraft cable to create the walking surface.
Greg Fecher has been designing for InterAmerica for 5 years. He now has the distinction of designing the first and second largest tension wire grids in the world. Fecher jumped at the opportunity to travel to Detroit back in October 2016 to observe the beginning of the grid installation. "I don't always get to see what I've designed in real life," Fecher said with a big grin. "It was impressive watching the panels go up to form the grid."
Little Caesar's Arena opened its doors in September, 2017.
Back to all news