The Forum is Still Fabulous at 50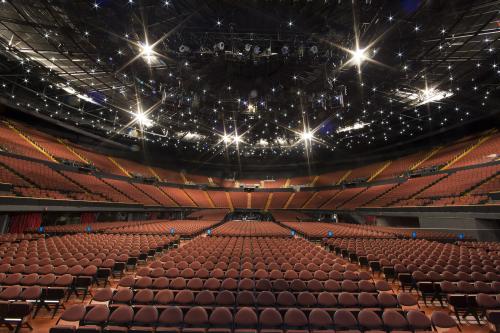 Posted: Friday August 10, 2018
The Fabulous Forum in Inglewood, CA, re-opened its doors as the only arena in the nation dedicated solely to music and entertainment. The venue is home to the largest tension wire grid system in the world (As of 2018, this title went to Little Caesar's Arena).  Mark Black, president and owner or IAstage, says, "For years, I've been thinking of how perfect SkyDeck™ would be in large arenas for overhead access."
As part of the $100-million reinvention, 71 tons of steel were installed overhead, significantly increasing the structural capacity of the roof. With the ability to support 350,000 pounds of hanging weight, the Forum is now equipped to accommodate the largest touring concerts and productions.
SkyDeck™'s safe walkable surface adds additional benefit to the venue. The woven wire work surface covers 34 thousand square feet, allowing for any rigger to reach any access point safely and easily.
"I was down at the Forum…for the Eagles load in, which marks the first time the renovated building has been rigged and had riggers in the roof," said Ed Kish, owner of Kish Rigging in Moorpark, CA. "The installation is first class. The rigging is safe, fast and easy." Nick Fanger, Structural Engineer at Kish Rigging agreed, adding, "So far, everyone agrees the SkyDeck™ greatly increases the speed and safety of rigging at the Forum."
Bill Rengstl, the head rigger of Justin Timberlake's 20/20 Experience, shares his experience working on SkyDeck™ at the Forum, " [It was ] the quickest most efficient and probably safest rig of the tour. Based on normal rig in and rig out walking on practically a solid floor versus walking a beam, you have a true safe surface. [It creates] better teamwork because you're able to get a couple of guys working together in a larger area versus an area that's restricted to less people because you've got the deck across. Helps that you're not restricted by the limitation of the life-line. [The] difference between Mark's product [and others'] is there were NO rigging obstructions."
Congratulations! Here's to another fabulous fifty years!
Learn more about the storied venue. It's a good read.
Photos Courtesy of Rebecca Taylor / MSG Photos
Back to all news