White River State Park Gets a SkyDeck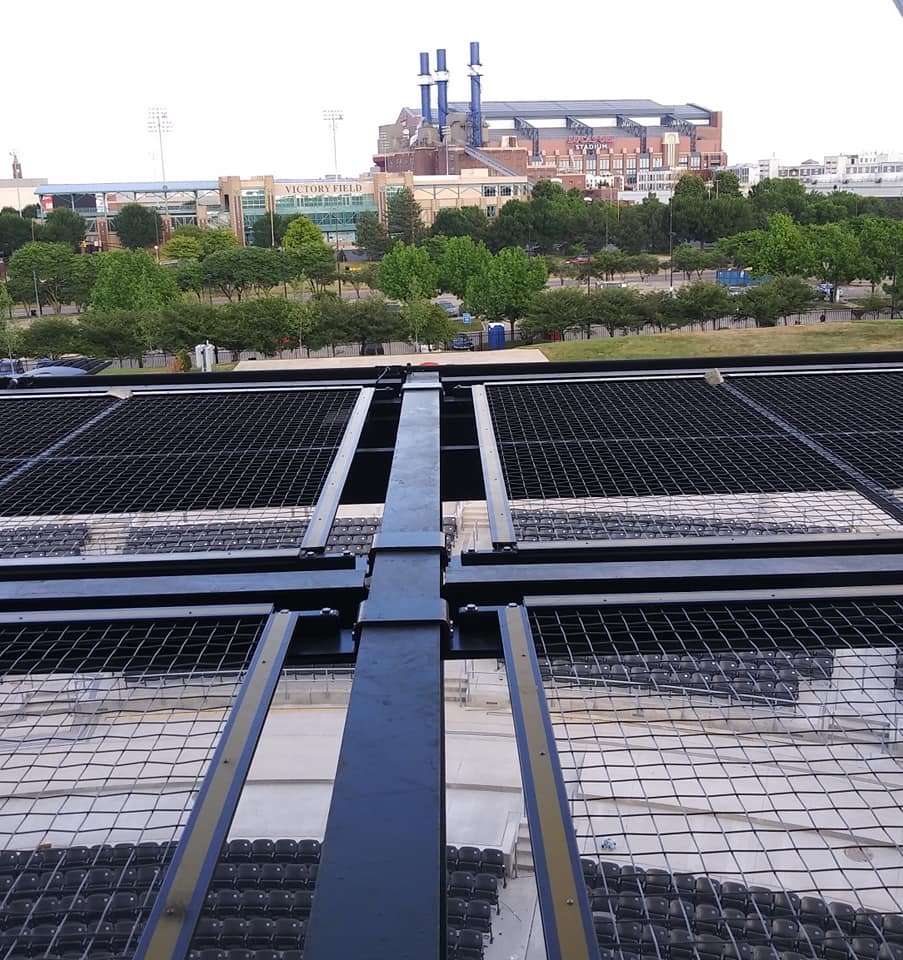 Posted: Friday June 26, 2020
The first SkyDeck™ panel went up last Monday, June 15, at White River State Park in Indianapolis. The new permanent stage is part of a two-phase construction project that began back in 2018.  Phase one, which has already been completed, broke ground in 2018. Phase two, which is under construction as we speak, focuses on a permanent stage for the park, a concrete pad with 3,000 permanent seats, 40 additional restrooms (for a total of 100 permanent restrooms on site), as well as amenities for those who will perform on the new stage.
The panel pictured below is one of 52 panels that comprise White River's new SkyDeck™ tension wire grid. This particular panel is 8'-11 5/8" x 8'-10 ¾" and will be located downstage of the proscenium arch. The grid covers the entire performance area upstage of the proscenium arch as well, but this part that extends downstage past the proscenium, covering a small apron.
Check out the finished extension in the following two photos. This first one is a view facing the audience from that section of SkyDeck we were just talking about. That's the Colt's stadium off in the distance.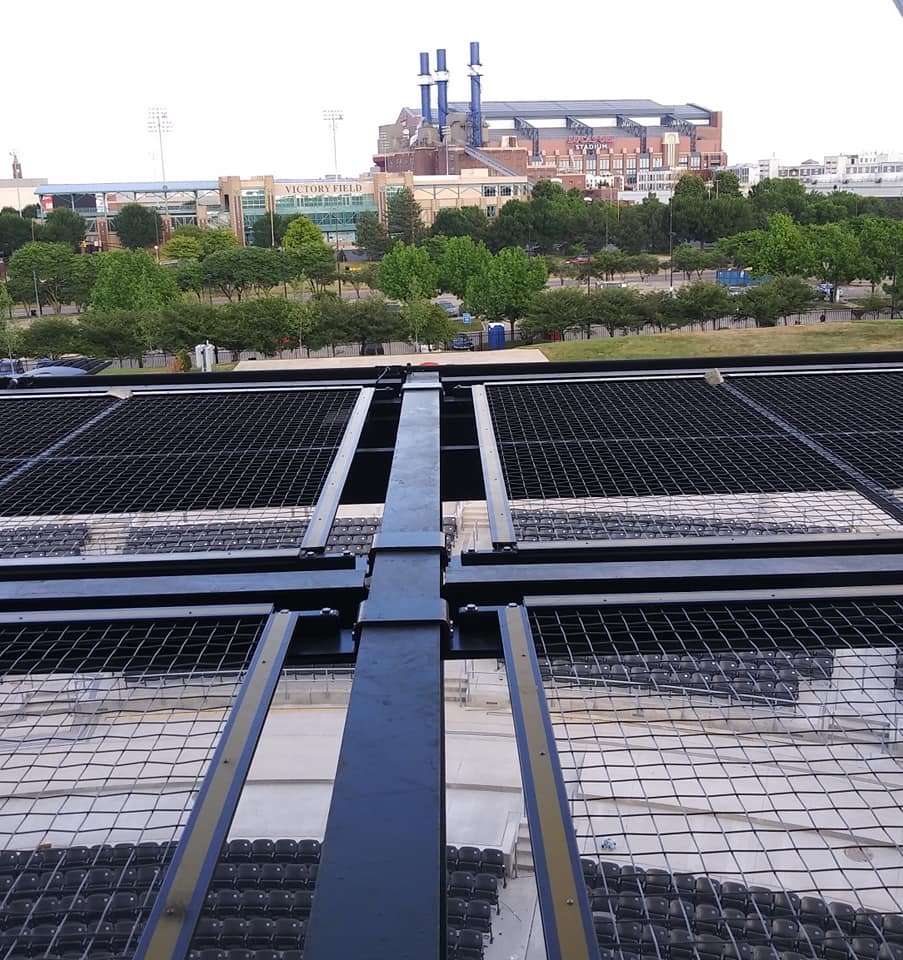 This cool shot is looking up at the extension from downstage right.  
You can see in the shot above and in Axis Architecture's rendering below that there are no handrails around this FOH extension.
It's a fact that SkyDeck™ was developed to eliminate the risk of falling for those working at height. And while it's true that you cannot fall through a SkyDeck™, you can certainly fall off of one if you don't have proper safety measures in place. Workplace falls are historically one of the most serious threats to the health and safety of entertainment industry and construction staff. To wit, according to Liberty Mutual's 2017 Workplace Safety Index, falling to a lower level represents one of the top three causes of injury reported.
Which brings us right back to the new venue at White River. Incorporated into the design of White River's FOH SkyDeck™ section is a lifeline system comprised of travsafe™, travsmart™, and travspring™ products by Tractel™. The lifeline track lives on top of a series of 12" and 18" high stainless-steel anchors manufactured by IA Stage that are inset along the edge of the rectangular extension in a U-shape with the open end of the U facing the proscenium. Picture little bridge pilings bolted to the facility steel with the lifeline attached to the top of each piling, but strung between them like power lines. (I apologize for mixing metaphors – describing it this way made the most sense to me!) We're confident that White River State Park's staff will be able to gracefully and more importantly, safely, handle the uptick of changeovers that we know are coming when the new space opens.
This commitment to safety isn't something that we take lightly.  We not only provide fall protection and high reach training to our field staff; we go a step further and commit many of our project management sales and field supervisors to ongoing training about Tractel's fall protection systems and equipment. The training we receive from Tractel ensures our sales teams and installers are up on the latest regulations and solutions for fall protection. This last picture is of our most recent training session. Many thanks to Daniel Montchal, Tractel's Regional Manager of the Southeastern United States, for coming out and leading an excellent training session.
Owner: White River State Park |Architect: Axis Architecture | Consultant: Theatre Projects Consultants | General Contractor: Foster Contracting 
Back to all news