Entertainment Icon Home to the Largest Wire Tension Grid in the World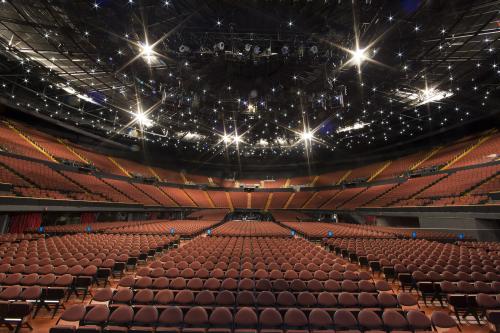 Posted: Friday January 17, 2014
On January 15, 2014, the Fabulous Forum re-opened its doors as the only arena in the nation that is dedicated solely to music and entertainment. The venue is home to the largest tension wire grid in the world. And it's a SkyDeck™!
"I was down at the Forum…for the Eagles load in, which marks the first time the renovated building has been rigged and had riggers in the roof," said Ed Kish, owner of Kish Rigging. "The installation is first class. The rigging is safe, fast and easy." Nick Fanger, Structural Engineer at Kish Rigging agreed, adding, "So far everyone agrees the SkyDeck™ greatly increases the speed and safety of rigging at the Forum."
As part of the $100 million reinvention, 446 custom SkyDeck™ panels were installed in the Forum's arena bowl. The woven wire work surface covers 34 thousand square feet of grid, 68 miles of aircraft cable, 4.6 miles of steel framing members, and 78,000 swage balls. 71 tons of steel were installed overhead, significantly increasing the structural capacity of the roof. With the ability to support 350,000 pounds of hanging weight, the Forum is now equipped to accommodate the largest touring concerts and productions.
IAStage is proud to be part of the revitalization project. We send our congratulations to the City of Inglewood and to the Fabulous Forum for a job well done!
Back to all news